SAGC – Sama Al Abtikar General Contracting (Electromechanical Division) is a professional and turnkey MEP Contracting Company offering services include Mechanical, Electrical, Plumbing, Fire Fighting and Specialized Systems to all over United Arab Emirates. Established in 2010, SAGC is one of the UAE's most successful and respected business establishments with a good reputation in the market for our quality of workmanship and prompt service.
Our team comprise of highly qualified and motivated Mechanical & Electrical professionals, who have gained experience both nationally and internationally. We will maintain the process of continuous improvement in different functions and areas of our organization by acquiring the best resources available.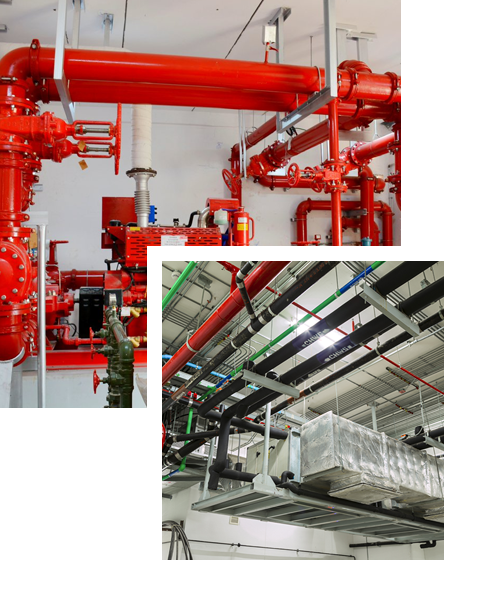 Our assurance on good performance of job, disciplined behavior of the workforce and adherence to the rules and regulations of customers' premises will be our firm commitment during all the time involvement. As a service provider we understand the importance of offering our clients the most appropriate solutions to their business needs. We execute all projects in accordance with technical and financial strategies to fit the distinctive character of the construction projects and to achieve the maximum benefit for our customers.
We are proud to have trusting and long-term relationships with our clients and our aim is to maintain these relationships as well as continue building our company to be the most competitive and quality driven MEP Engineering Contractors in UAE. We are committed to continue and strengthen the partnership with our customers, clients, and suppliers in an environment of trust and reliability.
As SAGC continues to grow and develop new markets for its investments, the company is determined to build on its powerful performance to date. During the coming years, SAGC will continue to grow on a solid foundation of sustainability, capacity building, national excellence, and leadership.
To safely deliver high-quality, cost-effective projects on schedule and enhance our client's satisfaction through continuous improvement of our business practices in terms of safety, quality, service delivery as well as sound environmental awareness policies and sustainable communities development
Our pride and personal involvement in the work we perform result in superior quality and service. This attitude is also directly reflected in our employee's level of responsibility, professionalism, and competency. Our mission is to be:
A reliable partner to all our Clients

A valuable asset to our stakeholders

An employer who recognizes and develops talent

New developments in building products and practices
To be a successful changer who can convert knowledge, strength, and ideas into benefit – in the form of new or improved services – Sky of Innovation